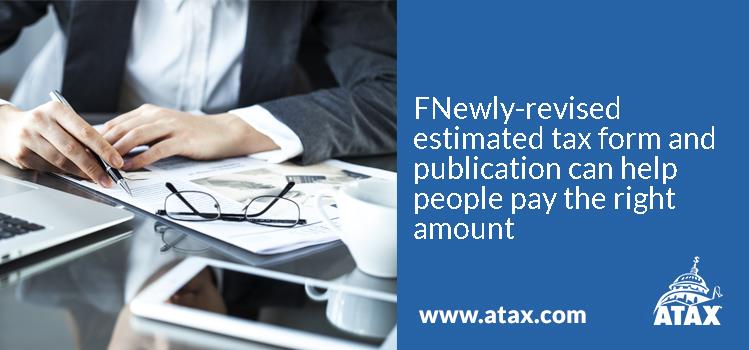 Newly-revised estimated tax form and publication can help people pay the right amount
With tax reform bringing major changes for the year ahead, the Internal Revenue Service today reminded the many self-employed individuals, retirees, investors and others who need to pay their taxes quarterly that the first estimated tax payment for 2018 is due on Tuesday, April 17, 2018.
The Tax Cuts and Jobs Act, enacted in December 2017, changed the way tax is calculated for most taxpayers, including those with substantial income not subject to withholding. Among other things, the new law changed the tax rates and brackets, revised business expense deductions, increased the standard deduction, removed personal exemptions, increased the child tax credit and limited or discontinued certain deductions. As a result, many taxpayers may need to raise or lower the amount of tax they pay each quarter through the estimated tax system.

Source: IRS
Continue reading here  

https://www.irs.gov/newsroom/newly-revised-estimated-tax-form-and-publication-can-help-people-pay-the-right-amount