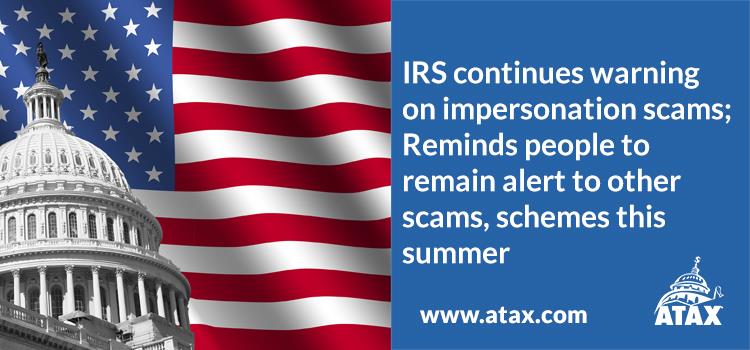 IRS continues warning on impersonation scams; Reminds people to remain alert to other scams, schemes this summer
WASHINGTON – With tax season completed, the Internal Revenue Service today warned taxpayers to remain vigilant for phishing emails and telephone scams. Summertime tends to be a favorite period for scammers because many taxpayers have recently filed a return and may be waiting for a response from the IRS.
The IRS and its Security Summit partners – the state tax agencies and the tax industry – urge taxpayers to remain alert to tax scams year-round, especially immediately after the tax filing season ends. Even after the April deadline passes, the tax scam season doesn't end.

Source: IRS

Continue reading here  

https://www.irs.gov/newsroom/irs-continues-warning-on-impersonation-scams-reminds-people-to-remain-alert-to-other-scams-schemes-this-summer